The California Department of Financial Protection and Innovation makes available via search the PUBLICALLY available records of, in one category, Franchise Corporations and Filings.  They can be found here:
https://docqnet.dfpi.ca.gov/search/
From the DFPI search pages:
Public Disclosure
In the State of California, laws exist to ensure that government is open and that the public has a right to access appropriate records and information possessed by State government. At the same time, there are exceptions to the public's right to access public records. These exceptions serve various needs including maintaining the privacy of individuals. Both State and federal laws provide exceptions.
All information collected at this site becomes public record that may be subject to inspection and copying by the public, unless an exemption in law exists. In the event of a conflict between this Use Policy and the Public Records Act, the Information Practices Act, or other law governing the disclosure of records, the Public Records Act, the Information Practices Act, or other applicable law will control.
Summary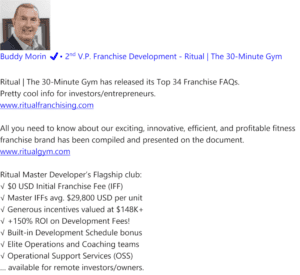 The removals of several posts on LinkedIn were deleted/removed by one individual who consistently makes claims about a franchise that seemingly does not exist in the State of California except for one believed to be a company location or independently operated location and not franchised. These posts are likely advertisements and may not be covered under FTC rules for exemption.
As it is our collective right to search these listings, providing we seek not to harm those for whom we retrieve, posting them on any open forum should be permitted and typically is.
Accordingly, herein you will find the documents for one "Ritual Gym," a company whose primary business is conducted outside of the United States except for the single company-operated location in California at 315 Wilshire Blvd, Santa Monica, CA 90401.
Enter "Ritual Gym" in the search link below:
You'll find the following documents:
Document Title
Application Transmittal Letter
Application/Facing Page
Auditor's consent
Certification-Form C
Consent to Service of Process (Except CA Corp)
Corporate Acknowledgement
Franchise Disclosure Document
Franchisor's Costs and Source of Funds (Suppl. Information sheet)
Internet Ad Exemption 310.156.3
Misc. Correspondence
Comment Letter
Pre-Effective Amendment
Certification-Form C
Franchise Disclosure Document (Marked Copy)
Franchise Disclosure Document
Response Letter
Order and Letter
3rd Comment Letter (Email)
Any complaints are to be filed at:
https://docqnet.dfpi.ca.gov/complaint/